Green Building Skills Training
Free online green building skills training for building a more sustainable Canada. Insulation and air sealing installer training, air barriers, and more are currently open for online registration.
Training for Building Professionals
All courses are available for free and are completely online. A certificate of completion will be emailed to you upon completion of any course.
These courses are delivered online through a modern, interactive, and self-paced learning program that will be useful for anyone in the insulation business, including: on site insulation installers, insulation supervisors or owners, carpenters, home inspectors, building inspectors, architects/designers, renovators, and more.

National Insulation and Air Sealing Training Program
Updated February 2022: Focus on National Code and National Energy Code requirements. This comprehensive 9 part series presents construction and renovation focused learning content, based on input from industry, government and manufacturing sources. Certificate upon completion.
Free Online Course
All Levels

Air Barriers for Professionals is practically oriented information for residential construction workers and renovators who deal with air tightness, insulation and various control barriers to improve the energy efficiency of homes. Certificate upon completion.
Free Online Course
All Levels

The modules in Residential Renovation 101 describe the fundamentals of material use, building types, and historical attributes of residential construction.
Free Online Course
All Levels

Le cours Pare-air pour Professionnels vise à fournir de l'information orientée vers la pratique aux travailleurs de la construction résidentielle et aux rénovateurs qui utilisent des produits d'isolation et divers systèmes d'étanchéité pour améliorer l'efficacité énergétique des maisons.
Six modules, y compris des annexes de dessins de détail.
Durée : environ 1 heure par module
Évaluation : quiz du module et examen de révision final avec certificat d'achèvement imprimable.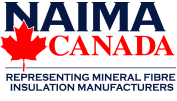 About NAIMA Canada Training
NAIMA Canada works with Canadian building science experts, construction professionals, institutions and supporting organizations to create free, online training for people in the construction industry. Our mandate is to improve the comfort and energy efficiency of buildings through increased insulation and air tightness strategies.
We are always looking to forge strong partnerships with others in the construction industry, in educational institutions, and with those interested in sharing information about high performance buildings, energy efficiency, occupant comfort and healthy housing.
To learn more about our training and how we can help your organization, please contact:
Andy Cockburn, Director of Education & Training
acockburn@naimacanada.ca