Air Barrier Training
for Professionals
Free online air barrier training for building professionals, contractors, and specialists.
REGISTER
Course Description
Air Barriers for Professionals is practically oriented information for residential construction workers and renovators who deal with air tightness, insulation and various control barriers to improve the energy efficiency of homes.
Air Barriers for Professionals was prepared in partnership with NAIMA Canada and Building Knowledge Canada.
The course is available for free and is completely online.
Air Barriers for Professionals Course Content:
6 modules with quizzes at each level:
Renovation & Retrofit

Basics of Building Science

Air Barrier Building Code

Air Barrier Types
Openings & Penetrations

Blower Door Testing

PLUS: BONUS APPENDIX MODULE – Typical Air Barrier Details for high performance builds and retrofits
Learning Objectives:
Exposure to various common material types and methods of installation used for air barriers.
Understanding of how air barrier building standards are made and where to look for regulatory (building code) information on air barriers.
Awareness of the common trouble spots and solutions for air barrier installation and air tightness testing.
Familiarity with typical residential construction details demonstrating the proper placement and continuity of air barrier(s).
Available for free – updated routinely and available on most standard devices.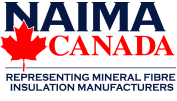 About NAIMA Canada Training
NAIMA Canada works with Canadian building science experts, construction professionals, institutions and supporting organizations to create free, online training for people in the construction industry. Our mandate is to improve the comfort and energy efficiency of buildings through increased insulation and air tightness strategies. See all available training courses here.